Blog
DISCOVER THE CASTELLO DI SINIO WORLD
19
Apr
Eggplant Parmesan Stacks
I prefer an eggplant parmesan that is not done as a casserole. It is easier, faster, more convenient to serve, and looks better on the plate. In theory, it should keep you from over-eating, but these versions are all so delicious I can't guarantee that you won't overdo it! I also don't bread and / or fry so it is lighter, fresher, and cleaner.
Ingredients
Traditional Eggplant Parmesan
1/2

batch

basic marinara sauce

1

container

ricotta cheese

(Get the smoothest, best brand you find.)

1

egg

1

pinch

garlic powder

1

tsp

fresh minced herbs of oregano or Marjoram

1/4

cup

finely grated Parmesan cheese

1

pinch

salt

1

pinch

pepper
Base Eggplant
1

eggplant

2

tbs

olive oil

salt

pepper
Variation: Smoked mozzarella, fresh basil
1/2

package

smoked mozzarella

(grate very coarsley)

fresh whole basil leaves

ricotta

(optional, see traditional parm recipe for instruction)
Instructions
Base Eggplant
Pre-heat oven to 375° F / 190° C.

Slice your eggplant crosswise into an equal number of slices, about 1-inch thick.

Rub the slices with the olive oil, front and back, making sure to get to the edges.

Salt and pepper both sides.

Place on a cookie sheet lined with baking paper.

Bake for about 15 to 20 minutes; if you like your eggplant softer, do 20 minutes. The slices should shrink a bit and show a light golden color. A knife tip goes in easily - the eggplant should hold up well and not be too toothsome. Remember, it doesn't bake in the oven for a long time and only goes back into the oven to fully heat the ricotta and melt the cheese.
Assembling and baking
Place larger eggplant slices on the baking sheet, spread a layer of ricotta, and a mozzarella slice or two.

Put a scant tbs of marinara sauce on each slice with ricotta and mozzarella.

Place the smaller slices on top of the dressed larger slice.

Put a dollop of ricotta if you have any left. Place a smaller mozzarella slice over the ricotta. Top with a good spoonful of marinara sauce. Save a little sauce for serving.

Bake for approximately 10 minutes to heat through the ricotta and melt the cheese. But don't let the cheese ooze all over.

Remove from the oven, top with a bit more sauce, and sprinkle with parmesan. Serve immediately.
Variation: Smoked mozzarella, fresh basil
Use coarsely grated smoked mozzarella, fresh whole basil leaves, and ricotta. Proceed as above, but substitute the grated smoked mozzarella for the ricotta and fresh mozzarella.

Place two or three large whole basil leaves between eggplant slices. Top with smoked mozzarella and a little sauce. Serve immediately.
Link to the full article:https://girlsgottadrink.com/eggplant-parmesan-stacks-recipe-with-wine-pairing/
ZOOM IMAGE
CLOSE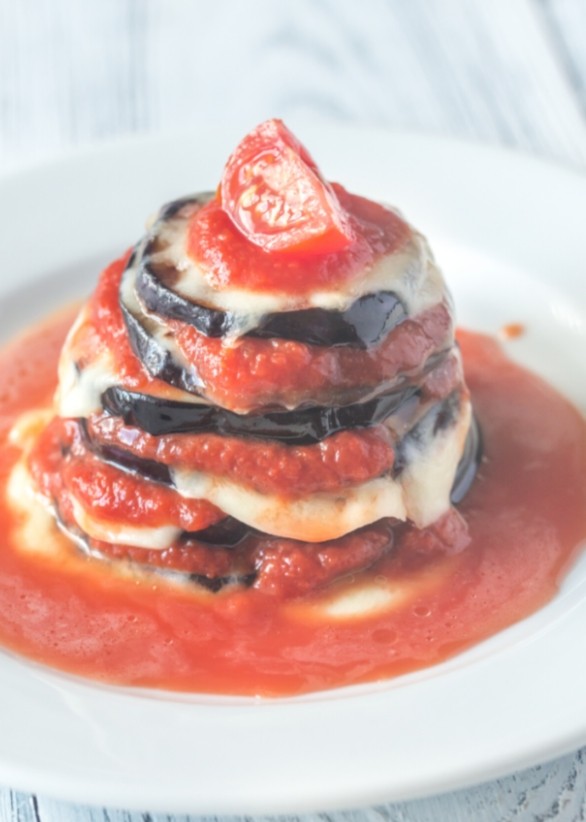 search in the blog
search By month
popular posts